See you on Saturday September 2, 2023 in Rumilly for the 10th edition of the Pottery Market!
It is on the forecourt of the Quai des Arts (Places d'Armes) that the association Trois petits bols and the Tourist Office invite you to share this day, from 9am to 18pm. The know-how of the hands will be honored through the art of pottery!
25 potters and ceramists from the region
Go to meetpassionate artists who will make you discover their creations in various styles and techniques: sculpture, decoration, tableware, glazed clay, earthenware or raku...
Need to renew your table service? Do you want to dress up your interior with unique pieces or simply to offer a gift? Beautiful discoveries await you at this event!
Here are the 25 potters present this year:
BAUSSERON – 73460 ND OF THOUSANDS
BERN – 42520 VERANNE
BOCCARD – 74800 LA ROCHE SUR FORON
BOUVARD – 73630 LE CHATELARD
BUCCINI – 42520 ROISEY
D'AFFROUX – 38700 CORENC
DE SOUSA – 26150 DIE
DURAND – 73100 AIX-LES-BAINS
FOURNET – 73340 BELLECOMBE EN BAUGES
GAILLET – 74420 HABERE-LULLIN
HERMANT – 74150 MARCELLAZ-ALBANAIS
KAUFFMANN – 43290 RAUCOULES
LAMURE – 69440 TALUYERS
LATESTAIRE – 43140 ST DIDIER EN VELAY
LEMEL – 74540 HERY-SUR-ALBY
LEVET – 73340 LA MOTTE EN BAUGES
LOYNET TARDY – 38110 DOLOMIEU
MARINONI – 38380 ST CHRISTOPHE / GUIERS
MONTBARDON – 73000 BARBERAZ
OLIVERES – 42510 BUSSIERES
POTHON – 38100 GRENOBLE
ROCK – 73410 ENTRELACS
SURREAUX – 74540 HERY-SUR-ALBY
VENET CORBIN – 69380 LISSIEU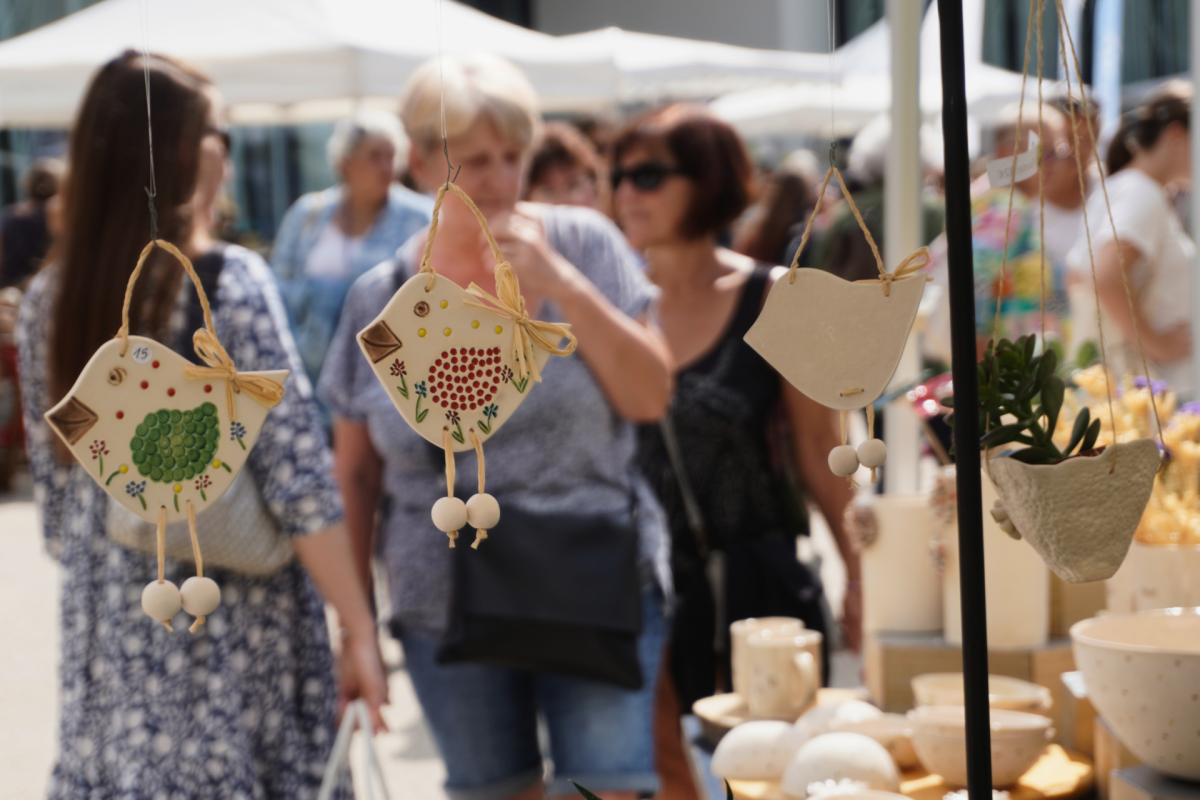 Shooting demonstration
From 10 a.m. to 12 p.m. then from 15 p.m. to 17 p.m., Gilles Durand, Savoyard potter, will offer you a turning demonstration; one of the most used techniques in pottery. How to hypnotize you!
Your children are artists!
Thanks to their hands and their imagination, your children will be able to learn about the practice of modelling! This workshop will be facilitated by Celine Giachetti, from 10 a.m. to 12 p.m. and from 14 p.m. to 18 p.m. The animation is free and without reservation.
Pottery invites itself to the Museum…
This year, a few steps from the potters market, find a pottery exhibition with free access to the Rumilly Museum. From 14:30 p.m. to 17:30 p.m. the most beautiful ceramics of the territory will be revealed to you!
What about the atmosphere?
To accompany all this, from 11 a.m. to 12 p.m. and from 14 p.m. to 15 p.m., we will have the pleasure of welcoming a group of traditional folk music and dances from here and elsewhere: The Gigoulette !
A few surprises await you…
For the 10th edition of the Potiers Market, we have concocted a few surprises for you!
Personalized pottery stamped "Rumilly" will be on sale at the Tourist Office stand. Articles made exclusively by certain potters to celebrate the 10th anniversary of the market.
Vote for your favorite stand and try to win a 50€ voucher valid in the market. The draw will take place at 16 p.m. on the Tourist Office stand. Good luck !
GOOD DEAL: You can eat on site thanks to the Foodtruck Chez Mistinguette. Stéphanie will offer you snacks with salty and sweet… Also find restaurants and terraces near the market!
The back-to-school event not to be missed!
Follow all the news of the event on the Facebook dedicated.
For any further information