Cthis month we went to GAEC of the Alambic to Marcellaz-Albanais. We met Lætitia BEAUQUIS, a passionate farmer, who took the time (between 2 cheeses) to receive us in her goat farm.
Your experience ?
I always knew that I was made for this environment and that I would work on the family farm. The GAEC (Groupement Agricole d'Exploitation en Commun) of the Alambic has existed since July 2005. I have been co-manager since May 21, 2011 and I work alongside my brother Adrien and my mother Suzanne. Our GAEC is a family story, it's a shared passion!
How does your business work?
When we decided, my brother and I, to join the family farm, we had to expand. We have invested in milking facilities and in a manufacturing laboratory. At first we didn't have a lot of goats; I only made a few cheeses. Today, the herd is made up of more than a hundred goats of alpine and saanen breeds. For 3 years, we have even produced milk year round to meet demand!
Here I am free to make the cheese my way. We are not in an AOP Chevrotin zone. So I can milk the goats morning and night and only make cheese once a day. We offer a wide range of pure goat cheese made from raw milk (lactic cheeses, tome, raclette, goat cheese). Our products are available for direct sale at the farm every day.
La "Croix de Savoie" is a local cheese in the colors of the Savoie Mont Blanc terroir. To make this raw goat's milk cheese, we first designed a mold in the shape of an escutcheon. The white of the milk associated with the red of the spices (dried tomatoes) represent the Croix de Savoie!
Your plans for the future?
One of the projects I would like to complete as a priority is to create a larger establishment for my goats. Initially, there were only 80. Currently, we have more than 130! This space has become too small for them.
Your must-see in Rumilly - Albanian destination?
We are lucky to be installed in a region rich in outdoor activities! Summer and winter, when I have a little time, I like to go to Semnoz to enjoy the walks and the countryside!
Otherwise, I also enjoy taking the children to the Rumilly lake.
Your Chinese portrait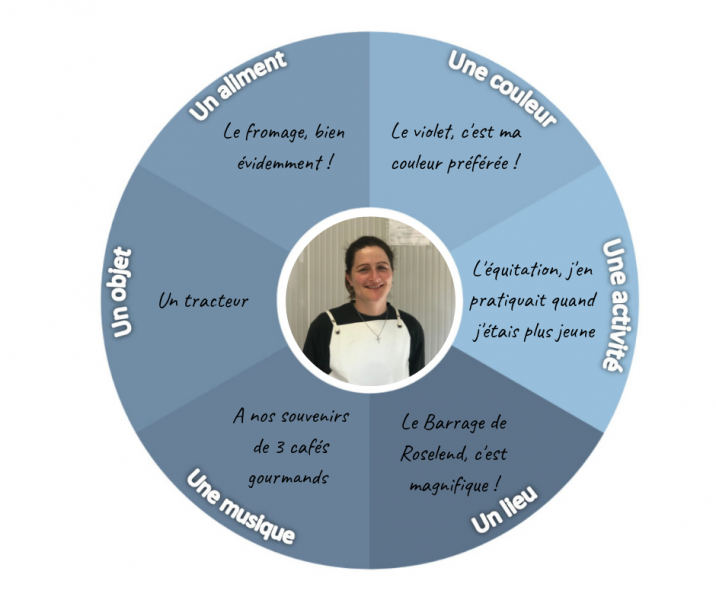 Thanks to Lætitia and her family for their warm welcome!