The westernmost mountain of the Bauges massif, Semnoz stretches from Chéran to the shores of Lake Annecy. This vast limestone plateau, among the most beautiful belvederes in the Alps, offers a bird's eye view of Lake Annecy and the Albanian plain.
Semnoz is nicknamed the Annecy mountain. However, with us, it is also nicknamed the mountain of Rumillians!
This high place of the Bauges Regional Natural Park is a very popular nature destination, accessible in about thirty minutes from Rumilly.
From Crêt de Châtillon (1700 meters), the highest point of Semnoz, visitors can take in an exceptional panorama. An orientation table has been installed to make this postcard alpine landscape easier to read: Mont-Blanc, Aravis, Jura and Bauges massifs; Albanian hills and plains, without forgetting, in the foothills, three eye-catching blue spots: Lake Annecy, Lake Bourget and a part of Lake Geneva! That is three of the four large lakes of Savoie Mont Blanc!
The alpine ski area
The Semnoz ski area has 18 slopes suitable for skiers of all levels (6 red, 5 blue, 7 green). The two snow fronts are located at an altitude of 1450 m (Bauges / Albanais and Annecy slopes). The tracks evolve between fir trees and alpine meadows up to 1704 m altitude. The slopes are served by 10 ski lifts (2 chair lifts, 7 ski lifts and 1 cable rope).
Finally for freestylers, the resort offers a slopetyle type snowpark lined with modules (slide bars, boxes, jib's) or other modules built in snow (table, spine, etc.) to perform jumps, figures and rotations.
Cross-country skiing and Nordic activities
46 km of groomed cross-country ski trails in alternative skiing and skating in 3 varied sectors:
the forest sector where you will discover the charm of the tracks which run between the pines;
the sector of the plateau du berger, ideal for beginners;
and the large plateau which offers a breathtaking panorama (access by chairlift).
There is also an initiation area for Nordic skiing, a snowshoe route, as well as 2 hiking trails complete the Nordic offer. Everyone will find their happiness there!
Finally, enjoy the pleasures of sledding with the family on a dedicated, secure track equipped with a carpet.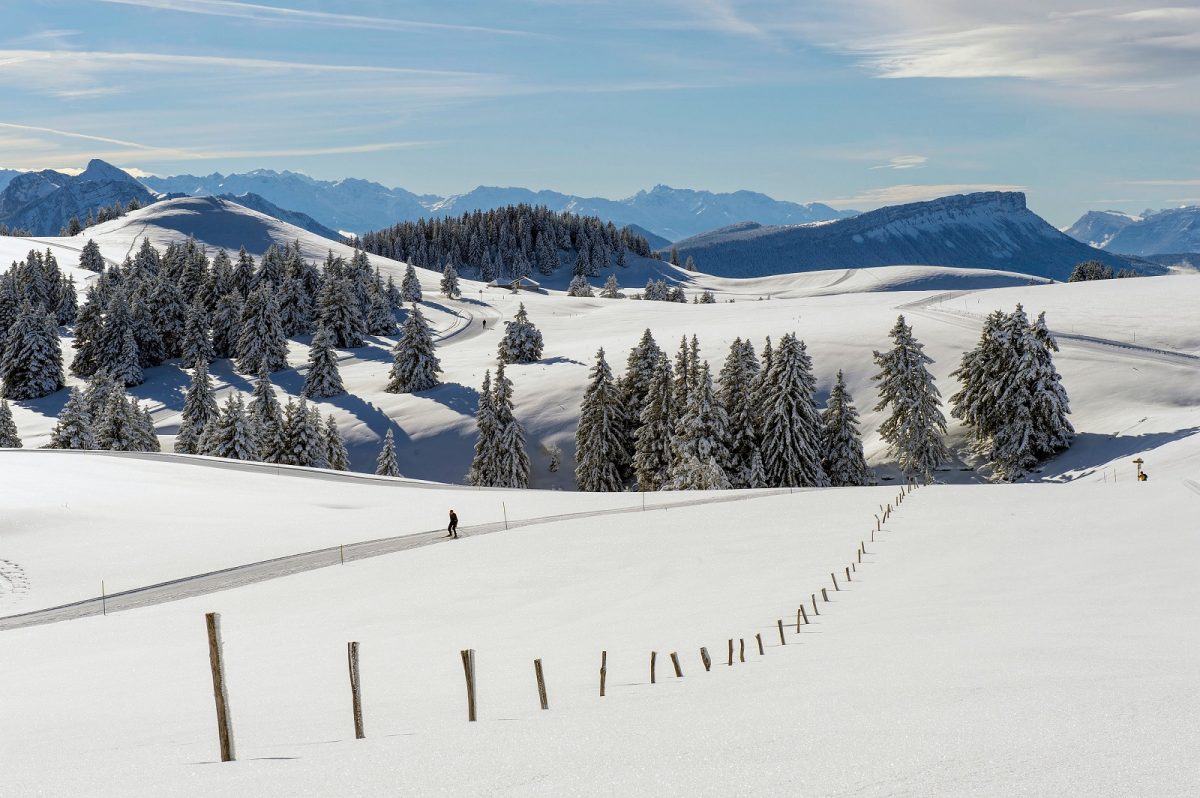 A family snow stadium in winter, the Semnoz turns into a great playground during the three other seasons.
multi-activities
"A family snow stadium in winter, the Semnoz is transformed during the other three seasons into a formidable multi-activity playground", enthuses Julien Perrillat, founder ofAlps Bivouac, fell in 2006 under the spell of this wild and authentic islet.