It's almost Valentine's Day !
Whether you are a fan or judge this party a little too "commercial", one thing is certain; you will hear about it and your better half too…
And given the current context, we really need a good dose of love, no ?!
So it's decided, let's play the love card to the fullest in this 14 February !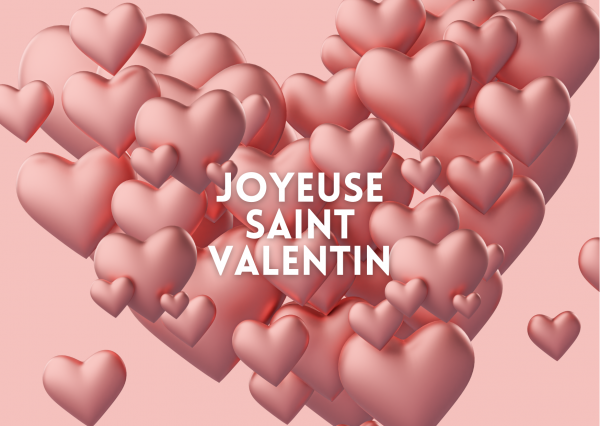 Show your love all over town!
To be original, why not display your best statement on the luminous panels of Rumilly? There is going to be love in the air… A great initiative from the Town Hall, which is making its three luminous panels available in town to spread your sweet nothings throughout the day on February 14. To your posts!
more info
Pay attention
Even if you don't need Valentine's Day to remind your loved one how much you love them, a little attention is always a pleasure.
Flowers, chocolates, jewelry… The gift ideas are not lacking for this particular day. And you will inevitably find your happiness with our merchants.
But you can also touch your better half by surprising her with little touches : prepare his breakfast, write him a sweet note, run him a bath... Little things that we may not have forgotten to do on a daily basis and which will, for sure, always make him fun !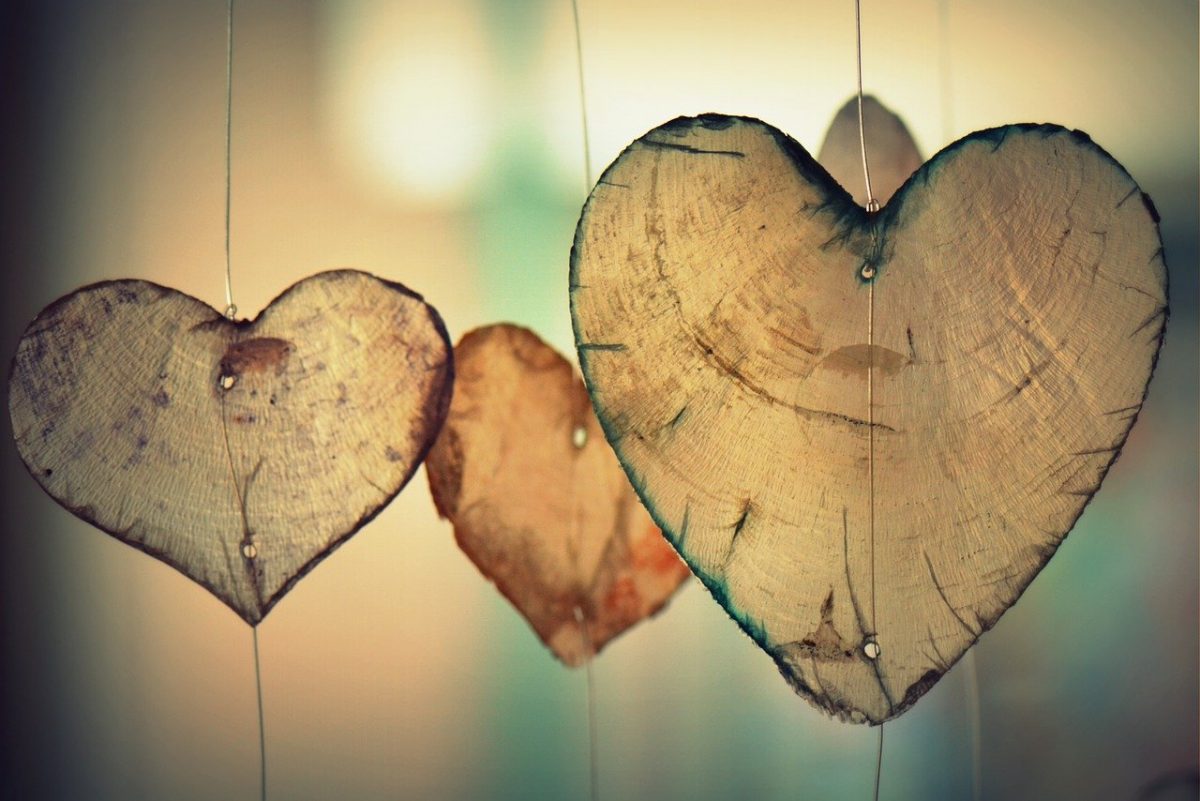 Good plan: a romantic dinner
If for you Valentine's Day is synonymous with a romantic little restaurant, you will inevitably find what you are looking for at our restaurants. They have concocted you great menus eat in or take away for a gourmet and tasty moment, for two !
Here are the menus offered for Valentine's Day (remember to book quickly):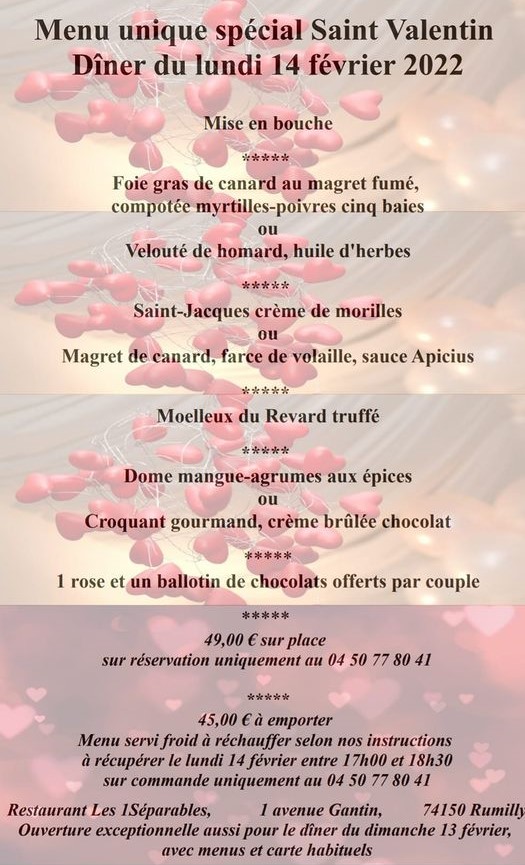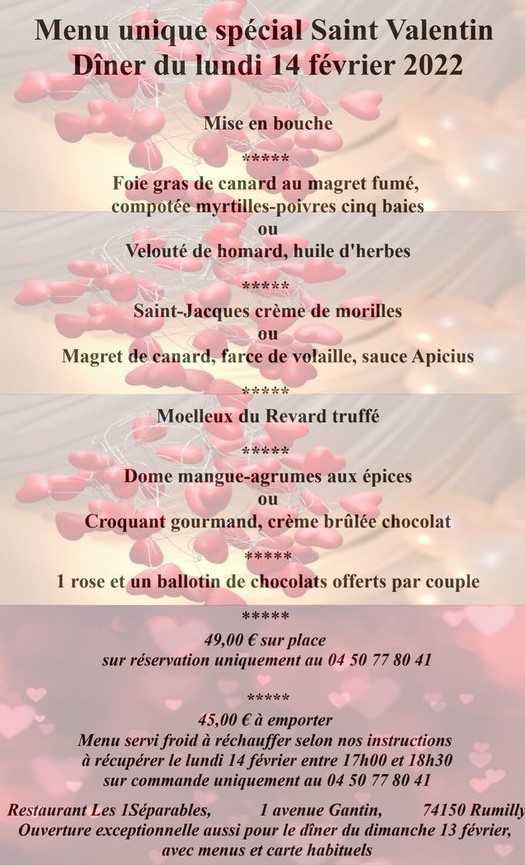 White Restaurant: 55€/pers (Monday evening)
Reservation at 04 50 01 09 50.
-Cab, avocado, grapefruit, tomato water in fine jelly and Timut pepper
-Scallops, cream and forgotten vegetable crisps, reduced juice with Richerenches truffles, smoked milk emulsion
- Fondant of veal at low temperature, roasted carrots with thyme, espuma of charlottes
-Trilogy of cheeses from our mountains
-Dessert around passion, mango and vanilla

For more magic, you can also book at the Hôtel restaurant Blanc :
• Spa, massage, privatized wellness area…
• Cocooning room (breakfasts offered for the occasion)
The Marilyn: 32€/pers (evening of February 14)
Reservation at 06 20 13 90 16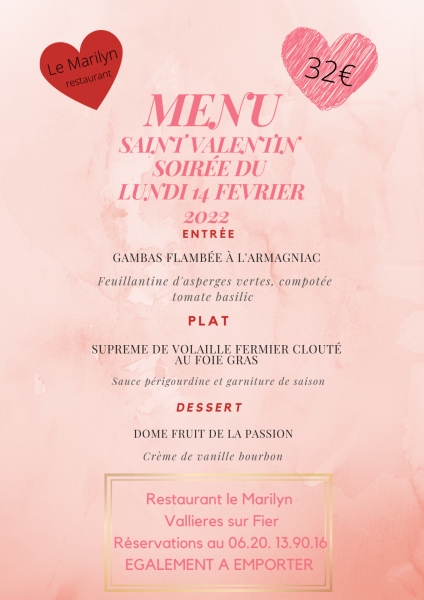 Alb'hotel: 40€/pers (Monday evening)
Reservation at 04 50 68 14 14
- Homemade aperitif & puff pastries
-Verrine of lobster in panna cotta or homemade foie gras and toast
-Scallops with fine herbs or Filet mignon of veal confit with Banyuls
Accompanied by a mini gratin dauphinois with porcini mushrooms & pumpkin mousse
-Molten chocolate cake with runny center and vanilla ice cream
The Grange at Jules: 69€/pers aperitif and dinner show (Friday, Saturday and Monday evening)
Reservation at 04 50 68 15 07
-Marbled foie gras with Maury wine, carrot with Tasmanian pepper
-Cod fillet in a black garlic crust, prosecco emulsion, roasted and smoked lettuce
- Duckling fillet from Dombes, salsify buttered with headed cabbage, grape juice and juniper juice
- Isfahan macaron (lychee, raspberry and rose), lychee-raspberry sorbet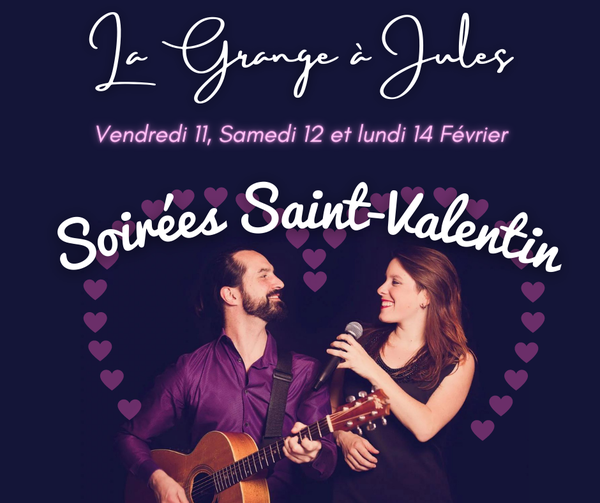 Jeremy's gastronomy: a dessert to share as a couple! 6€ one or 10€ the 2
Reservation at 06 29 91 70 00
🤍 The white entremet is a gourmet Vanilla and Apple heart
Composed of a bourbon vanilla mousse, you will discover in its heart, an apple compote. All this, delicately placed on its almond financier biscuit, coated in dark chocolate and hazelnut
💖 The pink entremet is a gourmet heart Dark Chocolate & Passion Fruit
Composed of a very light dark chocolate mousse hides a creamy passion fruit. A contrast between the bitterness of dark chocolate and the acidity of passion fruit. All this, delicately placed on its almond financier biscuit, coated in dark chocolate and hazelnut
A happy holiday to all lovers !